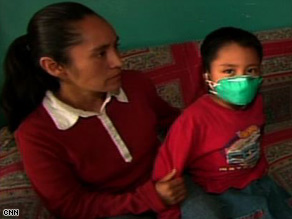 Five-year-old Edgar Hernandez, known as 'patient zero' survived the earliest documented case of swine flu.
A two-year-old child in Texas has become the first fatality from swine flu in the United States, officials said Wednesday.
'A child has died from the H1N1 virus,' the acting director of the Centers for Disease Control Dr. Richard Besser told CNN's 'American Morning' on Wednesday. 'As a parent and a pediatrician, my heart goes out to the family.'
The child is the first person to die of swine flu outside of Mexico where the virus has caused more than 159 deaths and roughly 2,500 illnesses."
First U.S. swine flu death confirmed - CNN.com